Wednesday, April 8th @ 7PM
Forum (272 Elaine Langone Center)
RSVP on Facebook Here and help spread the word!
The Production of Public Understanding of Science Project is pleased to announce that Dr. Anthony Leiserowitz, research scientist at the Yale University School of Forestry & Environmental Studies and Director of the Yale Project on Climate Change Communication, will present a public talk at Bucknell on April 8th. Dr. Leiserowitz is an expert on public opinion and engagement with the issues of climate change and the environment. His research investigates the psychological, cultural, and political factors that influence environmental beliefs, attitudes, policy support, and behavior. In his talk, Dr. Leiserowitz will report on recent trends in Americans' climate change knowledge, attitudes, policy support, and behavior and discuss strategies for more effective public engagement.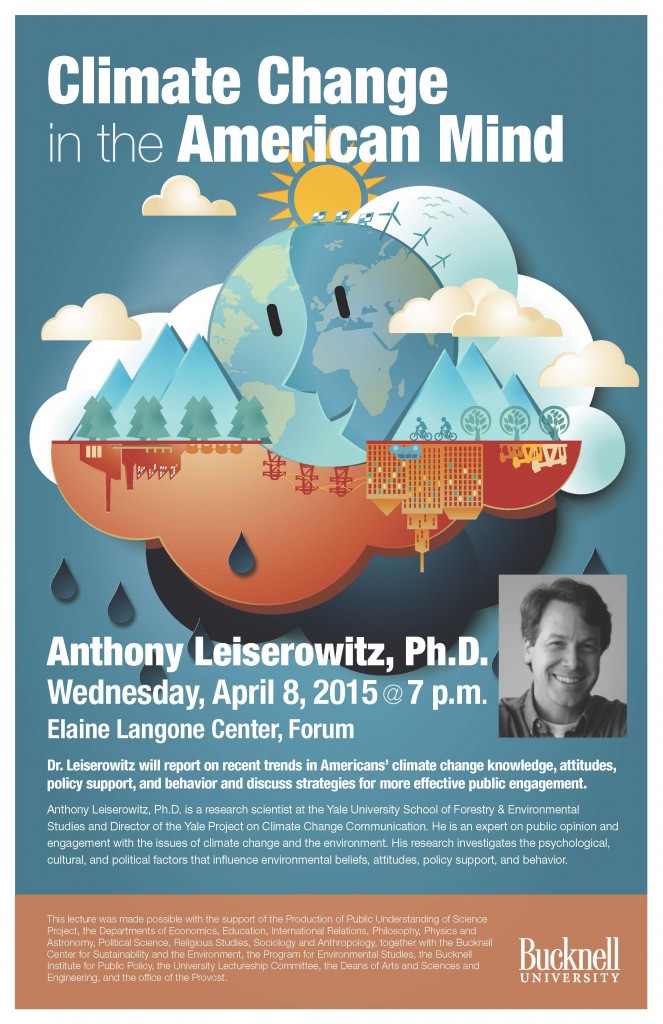 We gratefully acknowledge support from the departments of Economics, Education, International Relations, Philosophy, Physics & Astronomy, Religious Studies, Sociology & Anthropology, in additional the Bucknell Center for Sustainability and the Environment, the Program for Environmental Studies, the Bucknell Institute for Public Policy, the University Lectureship Committee, the Deans of Arts & Sciences and Engineering, and the Office of the Provost.
Please join us for what promises to be a great event!