November 5th–6th, 2015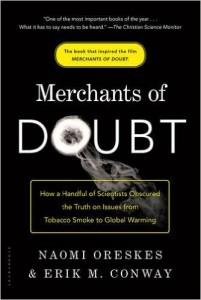 The PoPUS Project is delighted to announce a special public showing of the recent, critically-acclaimed documentary by Robert Kenner, "Merchants of Doubt", based on the 2010 book by Naomi Oreskes and Eric Conway. The film features prominently Professor Oreskes, as well as climate scientist (and previous PoPUS visitor) Michael Mann, and "honest liar" Jamy Ian Swiss. It documents the efforts of a small number of well-funded skeptics worked to slow the public's acceptance of the science behind the hazards of smoking, acid rain, ozone depletion, and climate change.
The film will begin at 6:30PM on Thursday, November 5th in the beautiful Campus Theatre in Lewisburg and will be immediately followed by a panel discussion and Q&A with Kenner, Oreskes, Mann, and Swiss. The event is free and open to the public. Here's a trailer:
In addition, Jamy Ian Swiss — an internationally-recognized magician and public intellectual — will give a performance/lecture on Friday, November 6th at 5PM. More details about other Friday events will be announced. These events are sponsored by the PoPUS Project and the Office of the President at Bucknell and other departments to be announced.